May 6th, 2023
Hello everyone,
After a busy season of creating my knitted hats to sell I have moved ,set up my new studio in my home and resumed painting. While in my former residence I enjoyed gazing at wintry sunsets. I have used that experience to create Evening Colors an acrylic representation of the leafless branches that remind us of those chilly long wintry days waiting for spring. It exudes its own special beauty in evening where contrast is heightened, and sky dramatically unfolds the bright energy of color before fading into night.I hope you enjoy it and add it to your collection
Fondly
Suzanne.
May 6th, 2023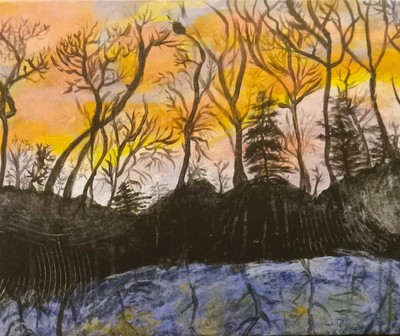 Hello Everyone,
After a busy season of creating a winter and spring collection of knitted hats, I moved ,set up a new studio in my home and resumed painting. In my former residence I enjoyed gazing out upon the view of wintry bare leafless trees enthroned by ever changing colors. this provided a stark contrast that inspired me to create Evening Colors. The perspective allows you to gaze up through the tree branches to admire the energy of colors before fading into night.
This artwork 16x20 has been entered into the annual Member's Show at the Williamsburg Contemporary Art Center set to exhibit May 31-July21.Enjoy and add this piece into your collection.
Fondly
Suzanne

May 21st, 2022
May Art Show at Bruton parish today gave me the opportunity to share my inspiration for this painting. Battle is Gods, I pray that it will touch hearts and give solace to those affected in recent shootings at Tree of Life ministry in Pittsburgh. A patron at the art show who is from that area believes that it could minister to those suffering as a result of the trauma of this horrific event. I welcome comments.
February 27th, 2022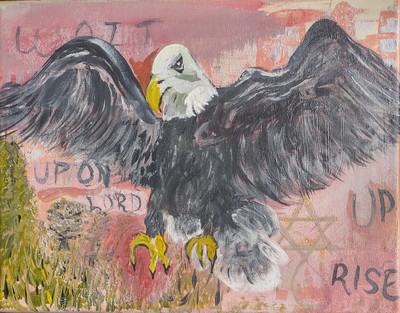 As we artists are creating new work my heart goes out to the Ukrainian people, My mind, heart and spirit cries out to the Lord for them. You will see this as scriptures in Rise Up , Isaiah40:31 are portrayed, my work will reflect this. I hope to encourage them and all of us to pray and trust in the Lord God Adonai. There are many Messianic Jews in Ukraine! in 2 Chronicles20:15" Do not be afraid or discouraged because of this vast army, for the battle is not yours but God's. My work in progress speaks of this. Stay tuned.
February 27th, 2022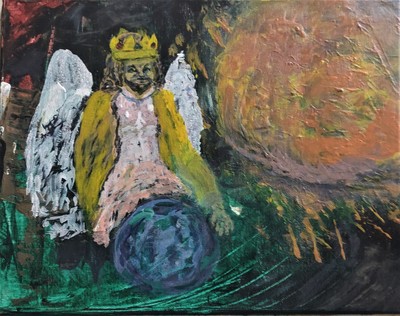 I am finishing up Nick's workshop. He focused on design, value and color. He has the best explanation of art concepts that I have experienced. I created Adonai; The Earth is My Footstool. The inspiration came from a vision during worship at service. I. saw the Lord wearing a gold crown, white and gold robes floating on a cloud. I continued to work on this painting during the workshop. I changed the planets, decreased the size of the sun emitting CME's,and enlarged the earth's size. saturation and color compliments were added The
story shows the sovereignty of the Lord as in Isaiah 66:1 The heaven is my throne, and the earth is my footstool, where is the house that ye build unto me? and where is the place of my rest?
February 12th, 2022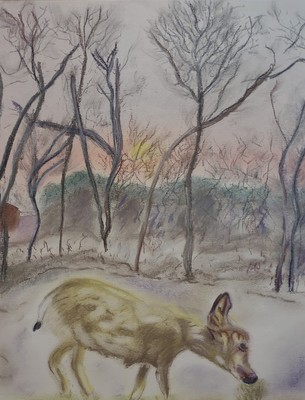 Happy new year everyone!
I joined the Williamsburg Contemporary Art Center The first show is coming up January 12, Photography Extravaganza from from Jan. 12 to Feb. 4.
I am submitting four works' Joy of Child's Play, The Garden Path, Beginning Bloom and Autumn Splendor, The Fountain will be added as they sell.
I am also making knitted hats that are available in the Artisan Center at Williamsburg Contemporary Art Center (WCAC). or contact me directly at 757 7036078. Enjoy the season.
Truly Yours,
Suzanne

Hi Everyone,
Well, here we are in Feb. I have been working in pastels for several weeks now. It's been very enjoyable. I created" As the Deer". I was inspired by the local scenery here in Williamsburg as we frequently see deer in Jamestown County at dusk. The most recent work is also a pastel, Horned Owl Nesting" created as a request by my daughter to do another owl. These works as well as several acrylics on canvas and mixed media will be available for viewing and purchase in the March 9,2022 Spring Members Co-Op Show
to open March 9- April 22,2022 at the Williamsburg Contemporary Art Center. I am enrolled in another workshop this week with Nick Wilton. Happy Valentine's Day! Remember your special someone with a selection of art and accessories in the Gallery. Blessings!
Suzanne